Peanut Brittle
Peanut Brittle is available for pick up Starting December 10th, 2023
Vendor:

Regular price

Sale price

$24.00 USD

Unit price

per
Holiday Items
Holiday items are available for pick up December 23rd and 24th
Regular price

Sale price

$65.00 USD

Unit price

per

Regular price

Sale price

$22.00 USD

Unit price

per

Regular price

Sale price

$49.00 USD

Unit price

per

Regular price

Sale price

$26.00 USD

Unit price

per

Regular price

Sale price

$10.80 USD

Unit price

per

Regular price

Sale price

$26.00 USD

Unit price

per
Cupcakes
Regular price

Sale price

$4.50 USD

Unit price

per

Regular price

Sale price

$3.35 USD

Unit price

per

Regular price

Sale price

$3.35 USD

Unit price

per

Regular price

Sale price

$3.35 USD

Unit price

per

Regular price

Sale price

$3.35 USD

Unit price

per
Signature Tortes
Regular price
Sale price
$49.00 USD
Unit price
per
Regular price
Sale price
$65.00 USD
Unit price
per
About Us
Wuollet Bakery's bread, cakes, pastries, and signature tortes owe their unique look and exceptional flavor to carefully sourced raw ingredients and of course a passionate team of people who love baking, tasting, and talking about desserts. We have been creating the finest cakes, pastries and bread for over 75 years!
‍
Our cakes are made with whole, pure, raw ingredients, and are baked fresh to fill each order. Our buttercreams are made with fresh real butter, high-quality vanilla and other natural flavors made fresh. 
‍
Our commitment to quality, freshness, and personal attention remains a founding principal of Wuollet Bakery for more than 75 years. Our talented team of bakers, decorators are dedicated to customer satisfaction…in fact, that's what continually drives us!
‍
Every Wuollet Bakery treat is made with the love and devotion we bring to work daily. Thank you to all of you who have supported us along the way!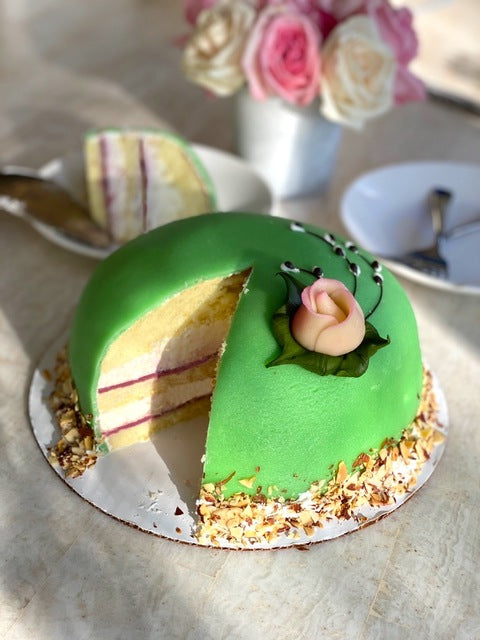 Princess Torte
A Wuollet's all-time favorite torte! Raspberry and Bavarian Cream layered with genoise (egg-rich golden cake) and wrapped in pastel almond marzipan.
Pricess Torte